How to order the maps
Each map is printed on 150g. matte paper (gloss or semi-gloss papers are alternatives). The ink used is pigment-based and the manufacturers claim 75 years of lightfastness.
Layouts available
The map is available as a whole sheet, or extracts as follows:
Faden's Map of Norfolk on one sheet
Measuring 35ins. by 52ins. (88cm by 131cm) giving a scale of approx ¾ins. to one mile. See plan »
Price
The whole county on one sheet costs £45 plus P&P.
Extra large version
A larger size is now available but needs to be collected in person as it is too big to send by post. Measuring 41ins. by 60ins. (103cm. by 152cm.) the large version costs £50.
Norfolk in six sheets
Here the whole county is divided into six equal sheets, each measuring approximately 34ins. by 34ins. (86cm. by 86cm.) See 6-sheet plan »
The North West map has a detailed town map of Kings Lynn, the South West map has a detailed town map of Swaffham and the South East map has a detailed town map of Great Yarmouth.
Prices
One sheet (34ins. by 34ins): £40 each
Full set of 6 sheets: £36 each
Please state which map(s) you want, eg. North Central (see plan). Prices exclude P&P.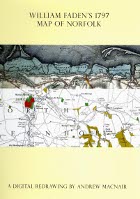 Four folded sheets with booklet
The whole county map in four folded sheets in an A4 size booklet with explanatory notes. Each map is 82cm × 57cm giving a scale of one inch to 1.2 miles. Each sheet slightly overlaps its neighbour, so reducing the risk of a village being 'on the edge'.
Cost £48
North Norfolk Coast
The North Norfolk Coast is available in two sheets, each 31ins. by 12ins. (78cm by 30cm). The West Coast map covers from Hunstanton to Stiffkey and the East Coast map Stiffkey to Mundesley. See North Norfolk Coast plan »
Prices
The coastal maps are £36 each plus P&P.
Custom sheets
Prints of individual villages, parishes or other areas, at any size of print, can be arranged, prices on application.
Post and packing is from £6.50

Orders may be made by email to email@fadensmapofnorfolk.co.uk
Book and DVD
To order the book and DVD please visit the publisher's web site here.
Other county maps
You may also be interested other county maps digitally redrawn by Andrew Macnair:
Thomas Jefferys's 1788 map of Buckinghamshire*
Ordnance Survey Old Series Cambridgeshire (1805-1836)*
*Details of these maps will follow, for now please email admacnair@aol.com for further details and prices.