William Faden 1750-1836
The 1797 Norfolk map was surveyed by Thomas Donald and Thomas Milne, both very experienced in their field. William Faden was the publisher and his name is the one usually associated with the Norfolk map. In the case of the 1783 Suffolk map, although Faden was the publisher, it is always named after Joseph Hodskinson, the surveyor.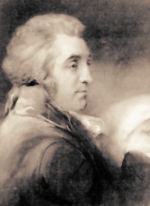 William Faden. Enlarge »
William Faden, based in Charing Cross, London, was one of the principal cartographers and map publishers of his time and produced some remarkably fine engraved maps.
As well as several similar county maps he published maps of the West Indies, India and France. He was particularly involved in producing maps of America at the time of the Wars of Independence including some showing troop movements and battle plans. His North American Atlas, dated 1776, is now a prized collector's item as is his 1785 United States of North America.
William Faden was chosen by the Ordnance Survey to print their first map of Kent in 1801. By 1822 his catalogue listed over 350 publications.