Home
The map was the first large-scale map (at one inch to the mile) of the whole county and shows the landscape just prior to Parliamentary Enclosure of the early 19th century. Surveyed between 1790 and 1794 the map was published in 1797 in London by William Faden, Geographer to His Majesty. Within 15 years of the map's publication the extensive commons, heaths and warrens had largely disappeared.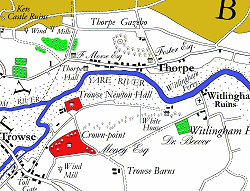 Extract: Norwich. Enlarge »
Original copies of the map are rare and cost many hundreds of pounds. The copy made by the Norfolk Record Society in 1975 is now difficult to come by and the edition still produced by the Larks press, in 35 small plates, fails to give an overall view of the county.

The map is still used extensively in landscape studies of Norfolk and East Anglia as well as in agricultural and social studies of the region. A digital redrawing of the whole map has been undertaken by Andrew Macnair and is now available.